Line Dance video links from the YouTube website in alphabetical order - 238 Videos
I have listed on this page Line Dance Music videos I have saved as my favourites from the You Tube website including those from my website
In cases where videos have been deleted from YouTube by owners, I have inserted an alternative link from another source.
All of the videos on YouTube are streamed through a Flash player, so you need to have the latest version of Macromedia Flash installed on your computer.
To install this, click on link:-
http://www.macromedia.com/shockwave/download/
and press Install Now
If the vidos do not play straight off without pausing, press pause and wait until the light grey line gets to the far right.
Then press play and the video will play all the way through without stopping, but may need subsequent reloading after a period.
Whilst you are waiting for the video to reload, you can re-enter the site again on another internet explorer page and play another video that is fully loaded whilst you wait.
It is also a good idea to to sign up and sign is as a member of YouTube on:-
Then you will be able to save the videos onto your own favourites list, and search yourself for videos on the site.
I have done so myself and I have saved country and pop music line dance videos from this site as my favourites on my youtube account on:-
http://www.youtube.com/profile?user=linedancercarter - 285 country numbers imbedded with line dance names on My Video Log
and pop line dance music videos from this site as my favourites on my youtube account on:-
http://www.youtube.com/profile?user=folkdancercarter - 221 pop numbers imbedded with line dance names on My Video Log
You are welcome to view these which have been incorporated in the links below
The video tracks can be found by clicking on the links below:-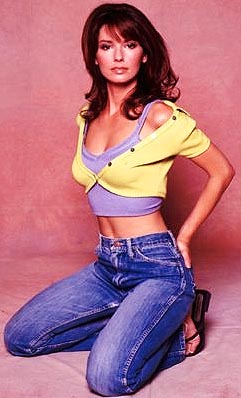 The artist above is Shania Twain
A summer breeze - How deep is your love by Bee Gees
A thousand miles from nowhere - A 1,000 miles from nowhere by Dwight Yoakam
Ain't it funny - Ain't it funny by Jennifer Lopez
Alice - Living next door to Alice by Smokie
All over it - Love to see you cry by Enrique Iglesias
All week long (aka Seven nights to rock) - Seven nights to rock by Bruce Springstein
Asian Heart - Heart of asia by Watergate
At the hop - At the hop by Danny and the Juniors
Baby Blues - Blues about you baby by Delbert McClinton
Back to front - Today I started loving you again by Merle Haggard
Basha - Cruising for bruising by Basia
Before the Devil - If You're Going Through Hell by Rodney Atkins
Better Life - Better Life by Keith Urban
Big Showdown - Wild West Show by Big and Rich
Black Leather Breeches - Baby Rocks by Phil Vassar
Blanket Cover - Blanket on the ground by Billy Jo Spears
Blue rose is - A boy named Sue by Johnny Cash
Boot Scooting Boogie - Boot scooting boogie by Brooks and Dunn
Buy me a rose - Buy me a rose by Kenny Rogers
Buzz - Love rules by The Kinleys
Bye-Bye (Picolissima) by david Civera
Cajun Mambo Walk - Coco jumbo by Mr. President
California Blue - California Blue by Roy Orbison
Candy Wine - You drive me crazy by Shakin' Stevens
Can't get you outta my head - Can't get you outta my head by Kylie Minogue
Carousel - Whose Bed Have Your Boots Been Under? (Dance Mix) by Shania Twain
Carribean Cowboy - Reggae cowboy by The Bellamy Brothers
Celtic Connection - Cotton eye joe by Rednex
Celtic Kittens - Celtic Kittens by Ronan Hardiman
Cha Cha One - Some Kind Of Trouble by Tanya Tucker
Cheyenne - Harper Valley PTA by Dolly Parton
Children of my heart - Queen of my heart by Westlife
Choose to dance - I hope you dance by Lee Ann Womack
Circle 20 (Circle Dance) - Ghost riders in the sky by Johnny Cash
Conrada Cha Cha - I just wanna dance by George Strait
Cotton Eye Joe - Cotton eye joe by Rednex
Country fair - Flashdance by Irene Cara
Country music - Murder on music row by George Strait and Alan Jackson
Country Roads - Country Roads by Hermes House Band
County Line - Neon Moon by Brooks and Dunn
Cowboy Sweetheart (Couple) - Cowboy Sweetheart by LeeAnn Rimes
Crazy little thing - Crazy little thing called love by Dwight Yoakam
Crocodile Shoes - Crocodile Shoes by Jimmy Nail
Cruising - Still Cruisin' by The Beach Boys
Cry - Cry just a little bit by Shakin' Stevens
Dance with the devil - Dance With Me by Michael Bolton
Dancing Costa - Yo quiero basilar by Sonia and Selena
Didya Ever - Didja Ever by Elvis Presley
Do Wop Be Doo Be Doo - Shang-a-lang by The Bay City Rollers
Down& Dirty - Ghost riders in the sky by Johnny Cash
Down on the corner - Down on the corner by John Fogerty
Do' Ya - Do you wanna dance by Cliff Richard
Electric slide - Electric avenue by Eddy Grant
Elliot's dream - I love to boogie by T.Rex
Evergreen - Evergreen by Will Young
Everywhere - Everywhere by Fleetwood Mac
Fahrenheit - Treat me nice by Elvis Presley
Fenua Maohi E - E Vahine Maohi by Fenua
Fields of gold - Fields of gold by Sting
Fiesta Cha Cha - Let's get loud by jennifer Lopez
Fiesta Cha Cha - Let's get loud by Jennifer Lopez (Strictly Come Dancing video)
First to last - My first my last my everything by Barry White
Five-Six-Seven-Eight (5 - 6 - 7 - 8) - 5678 by Steps (Press Play Video and press Open in New Window)
Flying Eight - Prop Me Up Beside The Jukebox (If I Die) by Joe Diffie
Follow your dream - All I have to do is dream by Cliff Richard and Phil Everley
Forever and a day - Angel by Lionel Richie
Freedom - Black and blue tears by Shania Twain
GI Blues - GI Blues by Elvis Presley
Going Loco - Loco In Acapulco by Sons and Lovers
Good times - Live to Love Another Day by Keith Urban
Grace Kelly - Grace Kelly by Mika
Greased lightning - Greased lightning by John Travolta
Gypsy - Gypsy by Ronan Hardiman
Happy times - The millenium prayer by Cliff Richard
Heartache - It's a heartache by Bonnie Tyler
Heartbreaker - Heartbreaker by Blue Lagoon
Heart of an Angel - Heart Of An Angel by Modern Talking (The Last Concert)
Hey baby - Hey baby by DJ Otzi
Hideaway Cha cha - Dance with me by Debelah Morgan
High class broads - Redneck woman by Gretchen Wilson
Ho Ho Quick Quick Slow - Just to see you smile by Tim McGraw
Holding you - Holdin' you by Gretchen Wilson
Hold me together - Holdin' you by Gretchen Wilson
Hush - There's a kind of hush by The Carpenters
I got a girl - I got a girl by Lou Bega
I just wanna dance - I just wanna dance by George Strait
I like it I love it - I like it I love it by Tim McGraw
I said I love you - I said I love you by Raul Malo
If I said you had a beautiful body - If I said you had a beautiful body by The bellamy Brothers
I'm on my way shrek - I'm on my way shrek by The Proclaimers
Instant Radiation - Chain reaction by Steps
Into the arena - Now I can dance by Tina Arena
Irish Waltz - Erin shore by The Corrs
Islands in the stream - Islands in the stream by Kenny Rogers and Dolly Parton
It's a country thing - I'm from the country by Tracy Byrd
It's a love thing - It's a love thing by Keith Urban
It's Chico time - It's chico time by Chico Slimani
Jamaica Mistaka - Line dance to Almost jamaica by The Bellamy Brothers
Jukebox - If The Jukebox Took Teardrops by Danni Leigh
Just wanna dance (Couple) - Dance the night away by the Mavericks
Keep it burnin' - Keep this fire burning by Beverley Knight
Keepsakes (Couple) - Just to see you smile by Tim McGraw
Kind of Magic - It's a kind of magic by Queen
King of the road - King of the road by Roger Miller
Kung fu fighting - Kung fu fgthing by Rurouni Kenshin (Right click on Play Video and press Open in New Window and press play symbol)
La Tanga - Que La Detengan by Raul Rio
LB Groove - Last Night by Chris Anderson
Leaving of Liverpool - Leaving of Liverpool by Sham Rock
Let me go - I will never let you go (Brokeback Mountain MV)by Jack Greene
Lets be us again - Lets be us again by Lonestar
Let's LeDoux it - Good Ride Cowboy by Garth Brooks
Let your love flow - Let your love flow by Bellamy Brothers
Lift me up - Lift me up by Geri Halliwell
Line Dance Ceremonial - An american trology by Elvis Presley
Listen to the rhythm - Ain't What You Do by Big Brovaz
Live for the one I love - Live for the one I love by Tina Arena
Loose Boots - Whose Bed Have Your Boots Been Under? (Dance Mix) by Shania Twain
Lora Lee Cha Cha - Dust on the bottle by david Lee Murphy
Love is in the air - Love Is In The Air (1978) by John Paul Young
Love is special - Cradle by Atomic Kitten
Love Machine - Love machine by Girls Aloud
Lucky Charm - Good luck charm by Elvis Presley
Mack the knife - Mack the knife by Bobby Darren
Make mine mambo - Mambo No. 5 by Lou Bega
Mardi Grass Mambo - Mambo No. 5 by Lou Bega
Marimba - Mucho Mambo (Sway) by Shaft
Memory Lane - The City Put The Country Back In Me by Neal McCoy
Message in a bottle - Let me let go by Faith Hill
Mess around - A Rockin' Good Way by Bonnie Tyler and Shakin' Stevens
Mister Right - Mr Right by Garth Brooks and other singing along
Mmwaah - Kiss Kiss by Holly Valence
Mony Mony - Mony Mony by Billy Idol
Moon tide - The tide is high by Atomic Kitten
More or less - Something stupid by Robbie Williams and Nicole Kidman
Mucara Walk - La Mucara by The Mavericks
My little runaway - Runaway by Del shannon
My New Life - High Class Lady by Lennerockers
Mysterious Girl - Mysterious girl by Peter Andre
Never say never - The best is yet to come by Scooch
New World (Aladin version) - Couldn't find Collin Raye version
Numero Uno - Your my number one by S Club 7
Old friend - My old friend by Tim McGraw
One step forward - One step forward by The Desert Road Band
On the water - Walking on the water by Atomic Kitten
Open Arms - Open arms by Journey
Papa loves mambo - Papa loves mambo by Perry Como
Paris 98 - Carnaval de Paris by Dario G
Pensacola Cha Cha - One night at a time by George Strait
Perhaps - Perhaps, perhaps, perhaps by Geri Halliwell
Picnic Polka - Cowboy Sweetheart by LeeAnn Rimes
Pirates of the Dance - Pirates of Dance by DJ BoBo
Plain Spanish - Spanish eyes by Ricky Martin
Pot of Gold - Dance Above the Rainbow by Ronan Hardiman
Prefab Cowboy - Cowboy dreams by Prefab Sprout
Queen of my heart - Queen of my heart by Westlife
Rashers rainbow - Dance above the rainbow by Ronan Hardiman
Rawhide Roll - Rawhide by Blues Brothers (Could not find the Frankie Laine version unfortunately)
Razor Sharp - Siamsa by Ronan Hardiman
Reaching Out - Reach by S Club 7
Ready to fly - Ready to fly by Richard Marx
Red Hot Rock 'n' Roller - Red Hot Rock 'n' Roller by Dave Sheriff
Reeling and Rocking - Don't be stupid by Shania Twain
Ribbon of highway - Your the one that I want by John Travolta and Olivia Newton John
River of Dreams - River of dreams by Billy Joel
Rock 'n' roll bride - I knew the bride (when she used to rock 'n' roll) by Dave Edmunds
Rolling (Couple) - A 1,000 miles from nowhere by Dwight Yoakam
Rolling Mist - Mull of Kyntyre by Wings with Paul McCartney
Romance - Let your love flow by Bellamy Brothers
Roman Holiday - On An Evening In Roma by Patrizio Buanne
Rose Garden - Rose Garden by Lynn Anderson
Ruby - Ruby don't take your guns to town by Kenny Rogers and the First Edition
Sassy Shanay (Couple) - Whose Bed Have Your Boots Been Under? (Dance Mix) by Shania Twain
Saturday Night Fever - Staying alive by Bee Gees
Scotia samba - Dance the night away by The Mavericks
Seminole Scuffle (Couple) - Seminole Wind by John Anderson
Seminole Stomp - Seminole Wind by John Anderson
Shakatak - Shakira - Ciega Sordumuda
Shakatak - Gareth Gates - Spirit in the sky by Gareth Gates
Shania's Moment - From this moment on (dance mix) by Shania Twain
Shooga - Sugar Sugar by John Fogerty and Keith Urban
Show me the way to Amarillo - Is this the way to Amarillo by Tony Christie mimed by Peter Kay
Silver threads - Silver Threads & Golden Needles by Linda Ronstadt
Sleazy Slide (Couple) - Friends in low places by Garth Brooks
Slipped and fell - I slipped and fell in love by Alan Jackson
Slow Burn - Fire by Babyface and Des'ree
Soft and Slow - Your man by Josh Turner
Sorrento - Sorrento Moon by Tina Arena
Spanish lullaby - La Isla bonita by Madonna
Speak to the Sky - Speak to the sky by Brendon Walmsley
Stand by me - Stand by me by Ben E. King
Standing By (Couple) - A 1,000 miles from nowhere by Dwight Yoakam
Starry Nights - Something Stupid by Robbie Williams and Nicole Kidman
Stepping Time (Couple) - One step forward by The Desert Road Band
Sticky Steps - Stuck on you by Elvis Presley
Strong enough - Strong enough by Cher
Suki Yaki - Sukiyaki (Ue o Muite Aruko) by Kyu Sakamoto
Summertime cha cha - In the summertime by Mungo Jerry
Sunshine and summertime - Sunshine and summertime by Faith Hill
Superstar - Superstar by Jamelia
Surfin' USA - Surfin' USA by THe Beach Boys
Tease Me - Please Don't Tease by Cliff Richard
Tennessee Waltz - Tennessee Waltz by Patti Page
That way - I want it that way by The Backstreet Boys
The Hucklebuck - Do The Hucklebuck by Coast to Coast
The Rose - Friends in low places by Garth Brooks
The spirit - Spirit of the hawk by Rednex
The Way - The way by Clay Aiken
This is us - This is us" Live by Emmylou Harris Mark Knopfler
Times 2 Fly - The Same Side by Lucie Silvas
Times Two - Two Times by Ann Lee
Titanic - My heart will go on (dance mix) by Celine Dion
Top of the world - Top of the world by The Carpenters
Tragedy (Couple) - Murder on music row by Alan Jackson and George Strait
Train (Western express) - Folsom Prison Blues by Johnny Cash
Trust me - Vincero by Fredrik Kempe
Tulsa Time - Tulsa time by Don Williams
Two Hearts - Two hearts by Phil Collins
Two Times - Two times by Ann Lee
Unmendable - Some broken hearts by Don Williams
Until the end - Stuck on you by 3T
Walk of life - Walk of life by Dire Straits
Walk right back - Walk right back by Everly Brothers
Walk with me - Would You Go With Me by Josh Turner
Watcha wanna do that for - I fell in love by Carlene Carter
Watching You - Watching You by Rodney Atkins
Waterfall (Couple) - Islands in the stream by Kenny Rogers and Dolly Parton
Western Barn Dance (Couple) - My baby loves me by Martina McBride
Western Star Cross (Couple) - Now I can dance by Tina Arena
What if we fly - What if we fly by Chely Wright
Where we've been - Remember when by Alan Jackson
Whichway Boot Scooting Boogie - Boot scooting boogie by Brooks and Dunn
Whole again - Whole again by Atomic Kitten
Wild Wild West - Wild wild west by Will Smith