Line Dance audio tracks in alphabetical order available from Pianoladynancy web site - 190 tracks (all downloadable onto computer)
The following 190 audio tracks from the Piano Lady Nancy website can be found by clicking on the links below:-
Because of excessive traffic on this site, you can no longer safely play the number direct anymore and have to download them first.
This is done by right clicking on the track name, pressing save target as and giving the music a file name. Then you can save it to your music folder, and press open folder and click on number to play it.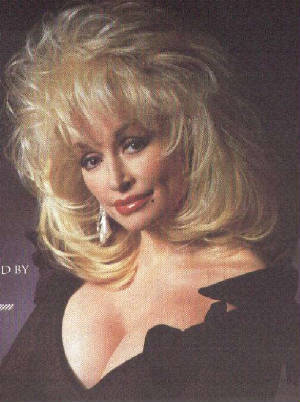 The artist above is Dolly Parton
The songs on this site are copyrighted by the respective artist and are placed here for evaluation and entertainment purposes only. No profits are made on this site from their use. Please support these artists and purchase their music.
In accordance with Title 17 U.S.C. Section 107, any copyrighted work on this site is distributed under fair use without profit or payment to those who have expressed an interest in receiving for non-profit research and educational or criticism purposes only.
http://www.law.cornell.edu/uscode/17/107.shtml
The songs are located on Geocities Servers, which allows us Limited Hourly Bandwidth. Because of the great number of visitors, Geocities temporarily shuts pages down if the hourly allotment is used up, even if you are in the middle of downloading a song!
If you have problems completing a download, or if your song won't play after downloading this is probably what has happened. Please "Refresh" the page and try again.
If the link reference changes, you can find the song on the website link below:-
Audio tracks for line the following line dances from the Piano Lady Nancy website can be found by clicking on the links below:-
A 1000 miles from nowhere - A 1000 miles from nowhere by Dwight Yoakam
Action - A Little Less Talk And A Lot More Action by Toby Keith
Ain't going down - Ain't going down by Garth Brooks
Ain't no way - Forever and for always by Shania Twain
Alive and kicking - That don't impress me much by Shania twain
All day long - Mr. Mom by Lonestar
All over again - I'll do it all over again by Crystal gayle
All shook up - All shook up by Elvis Presley
All You Need - All you really need is love by Brad Paisley
Amazing faith - Amazed by Lonestar
Angel Rock - Achy breaky heart by Billy Ray Cyrus
Baby Run - Run by George Strait
Bar Room Romeo - Achy breaky heart by Billy Ray Cyrus
Beer for my horses - Beer for my horses by Toby Keith and Willie Nelson
Before the Devil - If you're going through hell by Rodney Atkins
Believing - I believe in you by Don Williams
Better Life - Better life by Keith Urban
Big Showdown - Wild west show by Big and Rich
Black Label - Achy Breaky Heart by Billy Ray Cyrus
Blue Rose is - Boy named Sue by Johnny Cash
Blue Rose is - Walking to Jerusalem by Tracy Byrd
Blue Suede Shoes - Blue Suede shoes by Elvis Presley
Bobby Jo - As good as I once was by Toby Keith
Boot Scooting Boogie - Boot Scooting Boogie by Brooks and Dunn
Brand New Girlfriend - I got a brand new girlfriend by Steve Holly
Buy me a rose - Buy me a rose by Kenny Rogers
By George - By George by Marty Stuart
Carole's Country Veleta (Couple) - No one else on earth by Wynonna Judd
Carribean Cowboy - Get into reggae Cowboy by the Bellamy Brothers
Celtic Chaos - You're still the one by Shania Twain
Cha Cha Roma - One night at a time by George Strait
Chattahoochie - Chattahoochie by Alan Jackson
Chilly Cha Cha - She's not the cheating kind by Brooks and Dunn
Cold as ice - Cajun Moon by Ricky Skaggs
Commitment - Commitment by LeeAnn Rimes
Country fair - Country fair by Lonestar
County line (Line and Couple) - Neon moon by Brooks and Dunn
Country Music - Murder on Music Row by Alan Jackson and George Strait
Country Roads - Take me home country roads by John Denver
Cowboy Charleston - The Bug by Mary Chappin Carpenter
Cowboy Motion - Achy breaky heart by Billy Ray Cyrus
Crazy 4 Leaving - She's crazy for leaving by Rodney Crowell
Crystal Blue - Don't it make my brown eyes blue by Crystal Gayle
Dancing Cowboys - Dancing Cowboys by the Bellamy Brothers
Denver Dig - Down on the farm by Tim McGraw
D-Kline - Husbands and wives by Brooks and Dunn
Dreaming (Line and Contra) - Mama Don't Get Dressed Up For Nothing by Brooks and Dunn
Dubya Dubya Dot - WWW.memory by Alan Jackson
Electric Slide 4 - If bubba can dance by Shenandoah
Fahrenheit - Treat me nice by Elvis Presley
Falling behind cha cha - If I should fall behind by Faith Hill
Falling roses - She's not the cheating kind by Brooks and Dunn
Flobie slide - I'm holding onto love by Shania Twain
Flying eight - Prop me up beside the jukebox by Joe Diffie
Four to one in Atlanta - 4 to 1 in Atlanta by Tracy Byrd
Freedom - Black eyes Blue tears by Shania Twain
Gemma Waltz - Out Of Control Raging Fire by Patty Loveless & Travis Tritt
GI Blues - GI Blues by Elvis Presley
Good Reasons - Another good reason by Alan Jackson
Good time charley's - Good time charley's by George Strait
Haunted Heart - Haunted Heart by sammy Kershaw
Heartache - It's a heartache by Trick Pony
Heartbreak express - Tonight the heartaches on me by Dixie Chicks
Heaven knows - Heaven knows by Charlie Landsborough
He drinks tequila - He drinks tequila by Sammy Kershaw and Lorrie Morgan
High Cotton - High Cotton by Alabama
Hillbilly Rock - Hillbilly Rock by Marty Stuart
Hillbilly Rock 2 - Hillbilly Rock by Marty Stuart
Honky Tonk Blues - American Honky Tonk Bar Association by Garth Brooks
Honky tonk cha cha for two (Couple) - Living on love by Alan Jackson
Hot Dang - Gone country by Alan Jackson
Hot Hot Cowboy - Neon Moon by Brooks and Dunn
Hot Rod - 455 Rocket by Kathy Mattea
Husbands and wives - Husbands and wives by Brooks and Dunn
I hope you dance - I hope you dance by Lee Ann Womack
If tomorrow never comes - If tomorrow never comes by Garth Brooks
I'll give you my heart (Couple) - When I said I do by Clint Black
Inspiration Waltz (Country) - I'd love you all over again by alan Jackson
It's a country thing - I'm from the country by Tracy Byrd
Just a walking (Couple) - Walking to jerusalem by Tracy Byrd
Just for grins - Billy be bad by George Jones
Kick it - I'm holding onto love by Shania Twain
Knock yourself out - Knock yourself out by Toby Keith
Lamtara Rhumba - Mercury blues by Alan Jackson
Lazy chicken - Louisiana Saturday Night by Mel McDaniel
Let me off - Stop the world and let me off by Waylon Jennings
Lets be us again - Lets be us again by Lonestar
Live laugh love - Live laugh love by Clay Walker
Local Girl - Local girls by Ronnie Milsap
Love again, young again - I need more of you by the Bellamy Brothers
Lucky Charm - Good luck charm by Elvis Presley
Making Memories - Sometimes she forgets by Travis Tritt
Message in a bottle - Let me let go by Faith Hill
Mexican Waltz - The light in your eyes by LeeAnn Rimes
Midnight Cha Cha - Neon Moon by Brooks and Dunn
Much Too Young - Much Too Young To Feel This Damn Old by Garth Brooks
Nervous scared - Commitment by LeeAnn Rimes
Never A Thought - Never thought I'd fall in love with you by Billy Ray Cyrus
Never ending Waltz - When I said I do by Clint Black
Nobody but me - Nobody but me by Blake Shelton
Nothin' like - Ain't nothin like by Brad Paisley
Nothing but the tail lights - Nothing but the tail lights by Clint Black
Old friend - My old friend by Tim McGraw
Party 4 - 2 - Party for two by Shania twain and Billy Currington
Peek-A-Boo Shuffle (Couple) - Living on love by Alan Jackson
Pillow talk - - Right on the money by Alan Jackson
Punch the clock - Trouble by Travis Tritt
Rainbow Cha Cha - Pop a top again by Alan Jackson
Rebel Strut (Couple) - All my exs live in Texas by George Strait
Redneck - It's alright to be a redneck by Alan Jackson
Red Dirt Road - Red dirt road by Brooks and Dunn
Red white and blue - Only in America by Brooks and Dunn
Redwood City Hustle - Passionate Kisses by Mary Chapin Carpenter
Reeling and rocking - Don't be stupid by Shania Twain
Right on the money - Right on the money by Alan Jackson
Roadhouse Two - The church on Cumberland Road by Shenendoah
Rocking - Some Beach by Blake Shelton
Rock N Roll Cowboy - Cowboy Love by John Michael Montgomery
Rolling nowhere (Couple) - A 1000 miles from nowhere by Dwight Yoakam
San Antonia Stroll - San Antonio Stroll by Tanya Tucker
Saturday Waltz - Amanda by Don Williams
Save the horse Save a horse, ride a cowboy by Big and Rich
Seminole Stomp - Seminole Wind by John Anderson
Seminole Scuffle (Couple) - Seminole Wind by John Anderson
Senorita Margarita - Senorita Margarita by Tim McGraw
Shrapnell - Summertime Blues by Alan Jackson
Silver and gold - Silver and gold by Dolly Parton
Single white female - Single white female by Chely Wright
Ski Bumpus - Living on love by Alan Jackson
Sleazy Slide (Couple) - Friends in low places by Garth Brooks
Slipped and fell - I'd love you all over again by Alan Jackson
Soft and Slow - Your man by Josh Turner
Some Beach - Some beach by Blake Shelton
Somebody like you - Somebody like you by Keith Urban
Somebody loves you - When somebody loves you by Alan Jackson
Southern kicking, finger licking - Time Marches On by Tracy Lawrence
Southern Mississippi - Here In The Real World by Alan Jackson
Standing by (Couple) - A 1000 miles from nowhere by Dwight Yoakam
Standing outside - Up by Shania Twain
Sticks and Stones - Sticks and stones by Tracy Lawrence
Strait talking - Don't make me come over there by George Strait
Stroking (Billy Ray Cyrus) - Achy breaky heart by Billy Ray Cyrus
Suds in the bucket - Suds in the bucket by Sara Evans
Sugar Kisses - Neon Moon by Brooks and Dunn
Sundown Waltz - Sundown in Nashville by Marty Stuart
Sway (Couple) - Here in the real world by Alan Jackson
Sway (Couple) - I swear by John Michael Montgomery
Sweet Surrender - Can't fight the moonlight by LeeAnn Rimes
Tenkay - 10,000 Angels by Mindy McCready
Texas Shuffle (Couple) - Adalida by George Strait
Texas Stomp - Adalida by George Strait
The impossible dream - The impossible by Joe Nichols
The last dance - Save the last dance for me by Dolly Parton
The little man - Little man by Alan Jackson
The new west cha cha (Couple) - I'll give you something to drink about by George Jones
The rose - Friends in low places by Garth Brooks
The way - The way by Clay Aiken
There goes - There goes by Alan Jackson
Timezone (Alan Jackson 3) - It's 5' oclock somewhere by Alan Jackson and Jimmy Buffett
Top Notch - We should be together by Don Williams
Tragedy (Couple) - Murder on music row by Alan Jackson
Train or Western Express - Folsom Prison Blues by Johnny Cash
Trashy Women - Trashy Women by Confedewrate Railroad
Trucking - Kick my ass by Big and Rich
Tulsa Time - Tulsa time by Don Williams
Tush Push - Six days on the road by Dave Dudley
Under your spell - You look so good in love by George Strait
Up A Creek - 40 Days and 40 Nights by Tim McGraw
Urban Grace - But for the grace of god by Keith Urban
Walk Right back - Walk right back by Daniel O'Donnell with Mary Duff
Walk With Me - Would You Go With Me by Josh Turner
Waltz across texas - Waltz across texas by Daniel O'Donnell
Waltzes of angels & fools - Famous Last Words Of A Fool by George Strait
Watching You - Watching You by Rodney Atkins
Waterfall (Couple) _ Islands in the stream by Dolly Parton and Kenny Rogers
Watermelon Crawl - Watermelon Crawl by Tracy Byrd
Wave on wave - Wave on wave by Pat Green
What a night - Must've had a ball last night by Alan Jackson
What it ain't - What it ain't by Josh Turner
Where we've been - Remember when by Alan Jackson
Whichway Boot Scooting Boogie - Boot scooting boogie by Brooks and Dunn
Whirlwind Waltz - When I said I do by Clint Black
Whitewater - Independence Day by Martina McBride
Who I am - Meat and potato man by Alan Jackson
Wings of an angel - On the wings of a honky tonk angel by Brad Martin
Work in progress - Work in progress by Alan Jackson
Wranglers Twist - Shut up and kiss me by Mary Chapin Carpenter
You're my Jamaica - You're my Jamaica by Neal McCoy